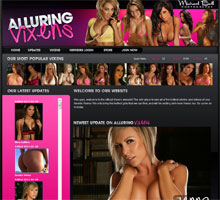 Alluring Vixens
January 25th, 2011 - By admin
Site Details
Videos:
104 Videos
(Average Lenght 3 minutes)
Video Formats:
MOV (1280x720)
Watermarks:
Yes
(Small-Sized)
DRM Protection:
No
(No license restrictions)
Pictures:
133 Picture Sets
(w/ 80 Pictures Per Set)
Pricing
Monthly:
$29.95 for 30 days
3 Months:
$59.95 for 90 days
1 Year:
249.95 for 365 days
The Pros
Amazing picture quality
Updates every week
Hot new girls to the internet
The Cons
Too many photoshoot videos
Limited Format To Just .Mov
Looking for a choice of tender young beauties who are more than willing to take their clothes off for you?  Then you might want to click on over to alluringvixens.com and see the tempting treats the site has to offer.
This is a buffet-style site with lots of girls for you to choose from.  Once nice thing that stands out immediately is that the site features lots of ebony and latino girls, which I feel are sadly under-represented in the industry right now.  You'll find lots of them to choose from here and they're all quite beautiful.  Don't forget about the Caucasian girls though, they're here too and they're equally as stunning.
Each girl has a few picture galleries and at least a couple of videos, and as with any mixed-site like this the quality of the performance varies from girl to girl.  Most of them here seem to have quite a bit of confidence and all of them are certainly having fun showing off for the camera.  For those of you who like the shy types though, you'll spot a few of them if you dig deep enough.  And I know you're going to, because once you sign up you're not going to be able to resist seeing everything this site has to offer.
The only real problem about this site is that if you have a favorite girl you may find that you run out of content for her quickly.  Of course, one way to get around that is to just find some other favorites – and there's plenty to choose from!  But if one girl in particular just stands out and makes you swoon, you might have to accept the fact that there's only a limited number of sets and vids of her available.  Thankfully the site updates so more is definitely on the way, and you can always drop them a line and let them know you'd love to see them perform more!  Alluringvixens.com is well worth taking a peek at for any connoisseur of young beauties.
User Reviews
Submit a Review