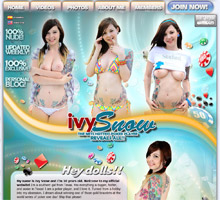 Ivy Snow
October 22nd, 2011 - By admin
Site Details
Videos:
83 Videos
(Average Lenght 14 minutes)
Video Formats:
.wmv .mp4 .mov
Watermarks:
Yes
(Small-Sized)
DRM Protection:
No
(No license restrictions)
Pictures:
75 Picture Sets
(w/ 90 Pictures Per Set)
Bonus Sites:
9 Bonus Sites
Pricing
Monthly:
$29.95 for 30 days
3 Months:
$59.95 for 90 days
The Pros
Cute Girl, Cute Tattoos
She Likes To Masturbate
Those of you looking for a hot little tattooed piece of ass could do much worse than ivysnow.com, where one of the cutest little sex demons I've ever seen tempts males and females alike to sin.
Ivy is angelic looking at first glance, but as soon as she flashes that grin of hers you realize you've got a naughty one on your hands.  She's definitely got one of the cutest faces in porn, to say nothing about the rest of her body.  She's a treat for the eyes all around.  She also has a fondness for masturbation with big toys, which I'm sure many of you will come to greatly appreciate.  Don't let the picture sets fool you; she doesn't show much in those, preferring to save the really good bits for the videos.  And what good bits they are!  She's also got some wonderful tattoos to show off; they're all very attractive and draw your eyes to the curves her body just perfectly.  She wouldn't be nearly as hot without the beautiful skin art.
The site is easy to navigate and features a pretty robust amount of content.  You'll have plenty to look at here, and if you end up becoming a fan of Ivy (and I can't imagine anyone visiting this site and not having that happen) you'll be very pleased to hear that she updates regularly and often.  That little body of hers is just too hot to keep under wraps and she seems to know it.  The frequent updates means you'll always have something fun to look forward to.
I recommend ivysnow.com to anyone who looking for a new hottie to lust over, but especially to those who go in for the cute and naughty type chicks.  Ivy certainly fits that bill and she knows it.  You'll have a great time enjoying her body, I promise.
User Reviews
Submit a Review