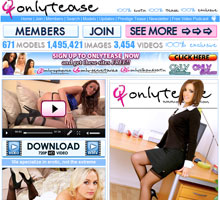 Only Tease
December 11th, 2011 - By admin
Site Details
Videos:
2188 Videos
(Average Lenght 8 minutes)
Watermarks:
Yes
(Small-Sized)
DRM Protection:
No
(No license restrictions)
Pictures:
9037 Picture Sets
(w/ 100 Pictures Per Set)
Pricing
Monthly:
$24.95 for 30 days
3 Months:
$59.95 for 90 days
The Pros
Staggering amount of content
Zips & high definition videos
The Cons
There just isn't enough hours in the day to enjoy all this
My satisfaction with the only-brand sites really can't be stated enough.  Onlytease.com is a high quality site featuring tons of sexy stripteases.  When I say tons, I'm not joking.  I try to get an accurate count of the amount of content on the sites I review but there's just so much here it's almost ludicrous.  Hundreds of thousands of pictures and well over a thousand videos await you here.
The girls on this site range from your sexy petite blonde to your busty brunette and everything in between.  There are so many of them that no matter what your taste in women you're going to find someone to love, and probably several someones.  As you might have guessed from the site name, the ladies here specialize in sexy strip teases.  The outfits they wear are highly provocative and most of them look like they cost a pretty penny.  The lingerie underneath is also high quality and looks oh so sweet on their tender bodies.  If you're into stockings, garters, and panties, then this is definitely a site you're going to love.
The website is laid out in such a way that finding what you want is easy.  You can browse by month (and updates are very frequent) or by model if you happen to become a fan of a certain girl (and you will).  High def videos, streaming, and zips of the picture sets in both high and lower res are available.  This site really does have it all.  The only thing it lacks is a significant amount of bonus content, though what they have is very nice.  There's also no hardcore scene or anything particular explicit – these girls will show you their panties, but seeing their pussies is trickier.  This IS a tease site however, so it's kind of expected and quite forgivable.
Onlytease.com is well worth taking a long, hard look at.  No matter what your taste in fine females you'll find a lady that fits the bill, and probably a dozen or more of them.  With such a huge amount of content, you'll be hard pressed to find a site with more bang for your buck.  Be sure to check it out; these girls are unforgettable.
User Reviews
Submit a Review