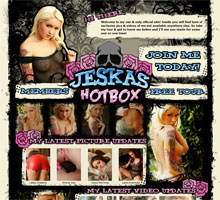 Jeskas Hotbox
August 31st, 2011 - By admin
Site Details
Videos:
24 Videos
(Average Lenght 4 minutes)
Watermarks:
Yes
(Small-Sized)
DRM Protection:
No
(No license restrictions)
Pictures:
42 Picture Sets
(w/ 60 Pictures Per Set)
Bonus Sites:
12 Bonus Sites
Pricing
Monthly:
$24.95 for 30 days
3 Months:
$59.95 for 90 days
1 Year:
$249.95 for 365 days
The Pros
Not A Shy Girl
Sweet Tattoos
The Cons
Poor Lighting In Some Vids
Currently No High Def Vids
If you love tattooed girls, blonde girls, or girls who aren't shy of showing off their perfect pussies, then you're going to enjoy jeskashotbox.com.  This box is very hot indeed!
Jeska is a hot little blonde piece of tail who doesn't look a day over eighteen.  She's got large sultry eyes, sweet pert little breasts and an ass that you will gleefully spend many hours adoring.  She's not at all shy about revealing herself for the camera, so you can expect plenty of nude shots from all angles, directions, and positions.  Add to that some really sweet tattoos that cover much of her perfect young body and Jeska is definitely a winner you'll want to take some time to get to know better.
The site is reasonably new so there isn't quite as much content as you're going to see in some of the more well established places on the internet, but don't let that stop you from signing up to see what this beauty has to offer.  The videos and pic sets are all very nice and Jeska knows how to work the camera for maximum effect.  She also knows how to dress to best tease her viewers; she'll cover up just enough to make you want to keep looking, and tends to choose outfits that let you scope out those sweet tattoos of hers.  They add a great deal to the experience.  There's just something about well-done skin art.
Updates are reasonably frequent and the bonus content is nice.  You've got numerous other sites to browse as well as Jeska outtakes and candids.  Again, it's a new site so the volume isn't quite as high as some other sites, but Jeska is so incredibly fucking hot that I can't imagine anyone who pays her a visit will be anything but happy to have done so.  She's really got the spark that could cause her to go far in the industry, so step up, check her out, let her know what you think and lets see if we can't get this girl the stardom that she so rightly deserves!
User Reviews
Submit a Review