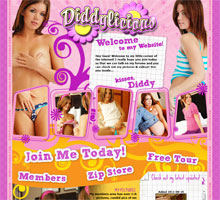 Diddylicious
August 31st, 2011 - By admin
Site Details
Videos:
241 Videos
(Average Lenght 6 minutes)
Watermarks:
Yes
(Small-Sized)
DRM Protection:
No
(No license restrictions)
Pictures:
244 Picture Sets
(w/ 60 Pictures Per Set)
Bonus Sites:
12 Bonus Sites
Pricing
Monthly:
$24.95 for 30 days
3 Months:
$49.95 for 90 days
1 Year:
$199.95 for 365 days
The Pros
Diddy looks like the girl next door
Lots of High Def Videos
Plenty of Camshows
The Cons
Could use more regular videos
No Video Streaming
Her name may be a bit on the silly side but that's actually just how it ought to be.  You'll know what I mean once you check her out at diddylicious.com.  Diddy's a fun girl with a strong sense of humor, and it shows in everything on her site.  She's clearly having fun every step of the way, and knowing she's enjoying herself really kicks up the value of the site a notch.
Diddy's a hot little thing.  She's got girl next door looks, like she could have been your babysitter when you were a child.  You know, the kind of girl you find yourself thinking about long after she's gone home for the night.  Her sweet, petite body lingers in your dreams, and you can't help but fantasize about her.  It's not even necessarily an overtly sexual thing.  You just want to lay your head against those sweet breasts of hers for a little while, smell her skin, and maybe play with her hair.
But of course, eventually you're going to want to see her naked.  And Diddy doesn't disappoint.  While direct peeks at her perfect little pussy don't seem to happen very often, she's certainly not shy about showing off the rest of her sweet body.  I guarantee you'll find more than enough to satisfy your appetite for this gorgeous example of a human being.
The site is loaded with pics and vids, though the majority of the videos seem to be camshows.  This may or may not be a good thing, depending on the tastes of the user, but either way there is lots to see and good times to be had.  All of the vids have high def versions available for download, which is really nice and makes up for the lack of streaming.
I highly recommend visiting diddylicious.com and getting to know her better.  She's a welcome sight for horny eyes and her site is just plain fun to browse, which definitely scores it major points.
User Reviews
Submit a Review