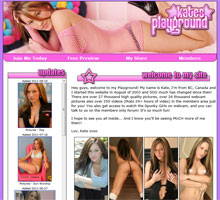 Kates Playground
August 31st, 2011 - By admin
Site Details
Videos:
161 Videos
(Average Lenght 5 minutes)
Watermarks:
Yes
(Small-Sized)
DRM Protection:
No
(No license restrictions)
Pictures:
423 Picture Sets
(w/ 80 Pictures Per Set)
Pricing
Monthly:
$29.95 for 30 days
3 Months:
$59.95 for 90 days
1 Year:
$249.95 for 365 days
The Pros
Tons Of Content
Video Sizes For High & Low Bandwidth Users
Lots of Bonus Content (Candids / Outtakes)
The Cons
Not All Vids In Large Size
There are a lot of sites out there that offer tremendous value for the money but you're going to have a hard time finding one that offers more than katesplayground.com.
Kate is a gorgeous young ash-blonde who's always very eager to work it for the camera, giving us memorable scenes solo and occasionally with some friends.  Her body is long, lithe, and limber, and her supple skin almost seems to beg for the caress of a hand, a toy, or a soft pair of lacy panties.  You'll find all you can handle of these things, as Kate is always stroking herself and clearly loves showing off her pretty underwear.  She also likes to have a little fun with a riding crop or some rope once in awhile, so if light bondage is your thing you'll find some fun here.
The amount of content on this site is impressive; it boasts 161 videos and over 400 picture sets, and that's just the main picture section of Kate's site.  Add in a good bit of bonus content in the form of pic sets from the videos, camshow archives, outtakes, and some candid photos of Kate when she's not performing, and you've got a whole lot to look forward to.  Once you've had your fill of Kate for the day, there are numerous bonus sites for you to enjoy as well.
I'm definitely going to have to place katesplayground.com high on my list of favorite sites, both for the enormous amount of content available and for the way Kate handles herself.  When you sit back to watch her you can immediately tell that she's having a great time and genuinely enjoys her work, which I'm sure you'll all agree is much better than having to deal with a bored pornstar just going through the motions. Kate wants you to enjoy her and she gives 110% to make sure you do so.  Check her out; you don't want to miss the fun.
User Reviews
Submit a Review