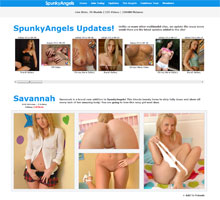 Spunky Angels
August 31st, 2011 - By admin
Site Details
Videos:
535 Videos
(Average Lenght 4 minutes)
Watermarks:
Yes
(Small-Sized)
DRM Protection:
No
(No license restrictions)
Pictures:
1671 Picture Sets
(w/ 110 Pictures Per Set)
Pricing
Monthly:
$29.95 for 30 days
3 Months:
$59.95 for 90 days
1 Year:
$249.95 for 365 days
The Pros
Amazing Girls
Frequent Updates
Tons Of Varied Content
The Cons
Want More Of Specific Girls
I knew I'd found a wonderful site when the first page loaded and I was presented with a gorgeous young blonde showing off her hot pussy and tight little asshole.  Spunkyangels.com features some of the hottest girls on the internet and I really just can't say enough positive things about it.  It's definitely the best site I've come across so far.
Over 70 girls are featured on this massive site and I swear every single one of them is a goddess in disguise.  While you'll no doubt find a girl or two to call your favorite (I'm particularly fond of Ashlee), all of the ladies that grace this site are the living embodiment of sex, and all of them are well worth taking the time to get to know a little better.
There are varying levels of perversion to enjoy here; some girls don't get fully nude, others go topless, some go all the way, and some are down for straight up hardcore action.  That means no matter what your tastes are you'll find something to love here.  There seems to be a fair bit of lesbian action going on which is definitely a plus, but even the solo girls have some knockout sessions, especially when they just can't resist picking up their vibrators and going to town.
A massive number of pics and videos await you on an easy to navigate site.  It features both smaller vids for the bandwidth challenged and high-def ones for those who need the best of the best.  You can spend a hell of a lot of time downloading from this site; I think it would probably takes weeks to see all it has to offer.
I usually try to pick out at least one thing the site could improve upon in my reviews, but to be honest the only thing this site needs is more of everything.  It really is close to perfect.  I'll definitely be back to browse it again, probably as soon as I finish typing this!
User Reviews
Submit a Review