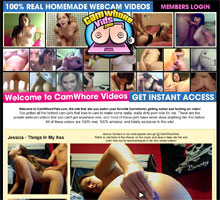 CamWhore Vids
August 31st, 2011 - By admin
Site Details
Videos:
295 Videos
(Average Lenght 15 minutes)
Watermarks:
Yes
(Small-Sized)
DRM Protection:
No
(No license restrictions)
Pictures:
Picture Sets
(w/ Pictures Per Set)
Bonus Sites:
12 Bonus Sites
Pricing
Monthly:
$24.95 for 30 days
3 Months:
$49.95 for 90 days
1 Year:
$199.95 for 365 days
The Pros
Large variety of horny young girls
Some hardcore action
Homemade Webcam videos
Long Videos
The Cons
No pictures
No High Def videos
As might be expected from the name of the site, camwhorevids.com is all about collecting the best of the best when it comes to young girls getting naked and doing naughty things on camera.  Cam videos have become really big in recent years and they're only going to get bigger, and a site like this is a great way to see why.  These girls are all awesome, eager, and enthusiastic in their pursuit of debauchery.
Camwhorevids.com features almost 300 videos and over 70 girls from all walks of life.  You'll find tempting young blondes, pretty, statuesque brunettes, tattooed scene girls and much more.  All of them will be engaging in various shades of naughtiness, from simply showing off their amazing tits and asses to sucking cock and more!  Basically what I'm saying is that there is definitely something for everyone here.  No matter what your particular favorite flavor happens to be, you'll find a girl here that'll fit the bill.
Because this is a camwhore site there are no pictures, not even screen caps of the cam videos.  For most people this won't be a big deal, but the bandwidth challenged are advised that this site may be a little more difficult to browse than most others.  At the very least you'll have to be patient.  Most of the cam videos are long (some run almost 30 minutes!) and so file sizes for the videos will likely make dial-up users shudder.  But for those of us who aren't stuck in the early 90s, its hog heaven over here.
If you're not interested in a specific girl and are instead looking for some all-purpose spank material then I have to say that camwhorevids.com is probably a great place to start looking.  With plenty of girls to choose from and plenty of action to enjoy, it's a wonderful place to begin your sexy journey.
User Reviews
Submit a Review