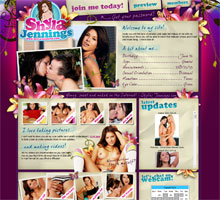 Shyla Jennings
August 31st, 2011 - By admin
Site Details
Videos:
84 Videos
(Average Lenght 7 minutes)
Watermarks:
Yes
(Small-Sized)
DRM Protection:
No
(No license restrictions)
Pictures:
107 Picture Sets
(w/ 70 Pictures Per Set)
Bonus Sites:
12 Bonus Sites
Pricing
Monthly:
$29.95 for 30 days
3 Months:
$59.95 for 90 days
1 Year:
$249.95 for 365 days
The Pros
High Def Videos
Really Enjoys Masturbating
Lots of Girl On Girl Action
The first thing you see when you click over to shylajennings.com is a short bio detailing her birthday and some other small, personal details.  This is the first site I've seen that does this and I have to say it's a really nice touch.  As soon as you land at the site you're starting to get to know the girl, which is a wonderful way to begin a visit.
Speaking of the girl, Shyla Jennings is amazing.  She's got long, flowing brown hair and her petite little body is exactly the sort of thing we men (and I imagine a lot of ladies!) fantasize about as we're drifting off to sleep.  Her breasts are on the nice, very cute with pert little nipples that she seems quite fond of touching.  That's not the only part of her body she likes to touch though; visitors to the site will quickly realize that Shyla is a masturbation fiend.  A great many of her pic sets and her videos feature her having some fun with one of her favorite vibrators.  It makes for a damn fine show, take my word for it.  She also likes to pair up with a buddy on occasion.  Two is definitely better than one in Shyla's world.
The site features a lot of videos, all of which have high-def versions, and pic sets that include large sizes.  No matter what your preference, you're going to see a lot of Shyla Jennings and you're going to see her in great detail.  Candids and outtakes are present as well and even in a lot of the candids Shyla somehow manages to end up naked!  It's nice to know some of our lady friends like taking it all off even when they're not working.
Shyla Jennings is a hell of a model and her site is well worth checking out.  It's got that nice personal touch that some sites miss out on, and enough content to keep even the horniest among us satisfied.  Hop on over to shylajennings.com and get to know her, I don't think you'll be disappointed.
User Reviews
Submit a Review